Graduate Studies
Areas of Study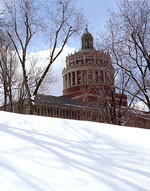 Members of the faculty are grouped within the Department according to research interests.  This arrangement enables the Department to offer very strong graduate programs in certain areas of specialization.  Each area has developed a program that makes excellent use of the special skills of its faculty members and their research facilities.  Although most students are admitted to one area, they may undertake a joint program that draws on the resources of two or more areas or pursue an intra-departmental degree.
The program in Clinical Psychology is fully accredited by the American Psychological Association (Office of Program Consultation and Accreditation, American Psychological Association, 750 First Street, NE, Washington, DC 20002; Phone: (202) 336-5979; Website: http://www.apa.org/ed/accreditation/). 
The Program follows the Clinical-Scientist model, and prepares students for positions involving research, teaching, and professional activities with adults as well as children. A major thread running through the program is an emphasis on research approaches to clinical issues. 
The Social-Personality Psychology program focuses on training graduate students as researchers, providing them with the theoretical and methodological tools that are needed for advanced scholarly work. The Social-Personality Psychology faculty are active in diverse areas of research, including intrinsic motivation, self-determination, friendship and loneliness, aging, social comparison, physical attractiveness, equity, intimacy, nonverbal communication, achievement motivation, approach-avoidance motivation, social motivation, goals, well being, and social cognition.
The Developmental Psychology program prepares students for careers in research and teaching and provides students with the theoretical perspectives and methodological skills needed for advanced scholarly work. The Developmental Psychology faculty's research interests cover a broad range of domains, including emotional, cognitive, social, and social-cognitive processes.
A strong interest in the motivational analysis of behavior brings together faculty from personality, clinical and social psychology.  Graduate students interested in motivation enter the department through, and fulfill the requirement of, the Social-Personality, Developmental or Clinical Programs, and do their research with the Motivation Research Group (MRG). Students interested in Human Motivation are jointly enrolled in one of the other areas of the Department.