Developmental Psychology
Training Tracks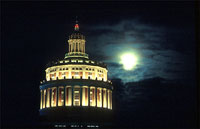 During the first two years in the program, students take core courses in developmental psychology, research methods, and quantitative methods to obtain the fundamental skills necessary to become a researcher and teacher. Throughout their graduate training, students also have the opportunity to take a number of more advanced seminars in developmental psychology, as well as courses in other areas inside and outside the department. To facilitate the development of collaborative relationships with faculty, students assume active roles as researchers within one or more research programs within the program and department. As students progress in the program, they are expected to do more independent research. A Master's thesis consisting of a small empirical research study is expected at the end of the second year. Following completion of the thesis, students take a comprehensive exam in developmental psychology in their third or fourth year and then begin their dissertation research. Effective teaching skills are encouraged through feedback from faculty in course presentations, professional seminar workshops offered by the program, informal seminars, structured teaching assistantships, and opportunities, in the more advanced years, to teach classes.
Students have the option of earning their developmental psychology degree through one of two training tracks: (a) the developmental psychology training track, and (b) the developmental psychopathology training track. Within each of the tracks, students also enjoy considerable latitude to select coursework and training experiences to meet the requirements of the training tracks. The specific details on the curriculum of each training track are presented below.
Developmental Psychology Training Track
The Developmental psychology training track offers students intensive and personalized research training in the different areas of the developmental sciences reflected in our faculty's interests. Students in this track complete departmental methodology and core course requirements as well as a year-long core course sequence in developmental psychology. They take additional advanced coursework in statistics and in developmental psychology. Students in this track are expected to begin their involvement in research in their first year in the program and focus increasingly on research as they progress through the program.
Developmental Psychopathology Training Track
Reflecting the University of Rochester's rich tradition as a recognized leader and birthplace of the vibrant, interdisciplinary scientific field of developmental psychopathology, the developmental psychology program is offering a new, exciting training track in Developmental Psychopathology. Consistent with the mission of the developmental psychology program, the program is designed to prepare students for careers in research and teaching in the developmental sciences. Thus, students earn a Ph.D. in developmental psychology and are not eligible for clinical licensure. (Students who are interested in obtaining a clinical degree should apply to the Clinical Psychology program.) The track shares the same basic course and training requirements as the developmental psychology track. However, the program is distinct from the developmental psychology training track in its emphasis on understanding the origins, correlates, course, and sequelae of abnormal as well as normal development and  an appreciation of how individual adjustment is informed by a multiplicity of processes at multiple levels of analysis. Emphasis is also placed on becoming versed in the translation of knowledge into prevention and intervention programs designed to optimize human development. Therefore, students pursuing this track supplement their training requirements toward the developmental psychology Ph.D. with additional opportunities and training experiences in methods of understanding and improving human development across a wide range of normative and risk conditions.
As a hub for developmental psychopathology research, Mt. Hope Family Center serves a rich source for unique scientific training experiences with families and children facing a range of different types of adversity. The program involves training and intensive collaborations with Mt. Hope Family Center, which  offers research, training, and community service. For example, training placements for the translational of science on developmental psychopathology are commonly housed at Mt. Hope Family Center. Likewise, the developmental psychopathology presentation series and selective courses are organized and administered by Mt. Hope Family Center staff.
Developmental Psychopathology Training Curriculum »