Undergraduate Studies
Clusters in Psychology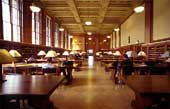 The major in psychology satisfies a social science divisional requirement. The various minors also satisfy divisional requirements as noted with each. The following clusters satisfy the divisional requirement in Social Sciences. Note: AP and Transfer courses do not apply.
Psychology as a Social Science  (S1CSP006)
PSY 101, Introduction to Psychology
Two from the following:  PSY 113, Biopsychology of Social and Clinical Behaviors; PSY 161, Social Psychology and Individual Differences; PSY 181, Theories of Personality and Psychotherapy; PSY 171, Social and Emotional Development; PSY 263, Relationship Process and Emotions; PSY 282, Abnormal Psychology; PSY 262, Human Motivation and Emotion; PSY 264, Industrial and Organizational Psychology; PSY 267, Psychology of Gender; PSY 276, Psychology of Parenting; PSY 278, Adolescent Psychology; PSY 281, Psychology and the Law; PSY 283, Behavioral Medicine; PSY 289, Child Psychopathology.
Psychopathology (S1CSP001)
PSY 282, Abnormal Psychology plus two of the following: PSY 181, Theories of Personality and Psychotherapy; PSY 280, Clinical Psychology; PSY 281, Psychology and the Law; PSY 283, Behavioral Medicine; PSY 289, Developmental Child Psychopathology. One of the following may be included: PSY 242, Neuropsychology; or PSY 246, Biological Bases of Mental Disorders
Psychology of Motivation  (S1CSP003)
PSY 262, An Approach to Human Motivation
One (only) of the following:  PSY 161, Social Psychology and Individual Differences; or PSY 181, Theories of Personality and Psychotherapy
One of the following:  PSY 263, Relationship Process and Emotions; PSY 368, Seminar in Humanistic Psychology; PSY 376, Seminar in Self Determination; PSY 398, Research in Motivation
Social Psychology  (S1CSP004)
PSY 161, Social Psychology and Individual Differences
Two from the following:  PSY 210, Social Cognition; PSY 262, An Approach to Human Motivation; PSY 263, Relationship Process and Emotions; PSY 266, Research Laboratory in Social Psychology; PSY 267, Psychology of Gender; PSY 363, Attitudes:  Structure, Function, and Change; PSY 556, Social Psychology of Control
Organizational Psychology  (S1CSP005)
PSY 264, Industrial and Organizational Psychology
Two from the following: PSY 161, Social Psychology and Individual Differences; PSY 181, Theories of Personality and Psychotherapy; PSY 262, An Approach to Human Motivation
Psychology of Developmental Disabilities  (S1CSP007)
Choose three of the following: PSY 282, Abnormal Psychology; PSY 289, Developmental Child Psychopathology; PSY 381, Psychology of Developmental Disabilities; PSY 384 and/or 385, Practicum in Developmental Disabilities; PSY 391D, Independent Study Related to Developmental Disabilities; PM 427, Special Topics in Disabilities
Personality Psychology  (S1CSP008)
PSY 181, Theories of Personality and Psychotherapy
Two from the following:  PSY 161, Social Psychology and Individual Differences; PSY 171, Social and Emotional Development; PSY 262, An Approach to Human Motivation; PSY 267, Psychology of Gender; PSY 364, Achievement Motivation; PSY 373, Exploring Research in Social Psychology
Social and Emotional Development  (S1CSP009)
PSY 171, Social and Emotional Development
Two from the following:  PSY 276, Psychology of Parenting; PSY 278, Adolescent Development; PSY 289, Developmental Child Psychopathology; PSY 377, Research in Family Psychology I; PSY 378, Research in Family Psychology II; PSY 371, Seminar in Social and Personality Development; PSY 383, Moral Development