Undergraduate Studies
Psychology Courses
All undergraduate courses except PSY 101 and PSY 111 offered by this department are cross-listed as CSP and PSY. Some courses in the department of Brain and Cognitive Sciences are also cross-listed as BCS and PSY. Click on the following links learn more about them.
Interested in taking courses during the Summer? Be sure to visit our informative page detailing our current roster of Summer courses!
Jump to:
General Course Information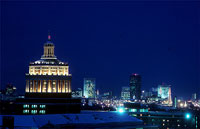 An Introduction to Psychology course is a prerequisite for declaring the major and a requirement in the minors in psychology. It may be waived for students who receive a score of 3 or higher on the Advanced Placement psychology examination. A score of 4 or 5 on that examination will earn college credit for PSY 101. College courses taken in high school do not always satisfy the requirement. Students should see an adviser with questions. There is also a placement examination offered through the College Center for Academic Support. Any PSY 101 prerequisites or requirement is waived upon passing this exam.
Students taking psychology courses as part of a Psychology degree should register for those courses under PSY rather than CSP or BCS.
The Introductory Course
PSY 101. Introduction to Psychology is a balanced and integrated survey of psychology with coverage of both social and natural science domains. Sections of PSY 101 vary, but most consist of lectures, readings, discussions, and demonstrations. One Fall section is limited to Freshmen only. (Fall and Spring)
Core Courses
Core Courses in Psychology present surveys of their specific areas. They enter into the requirements for the major and the minors in psychology. The natural science psychology core courses are PSY 110, Neural Foundations of Behavior; PSY 112, Cognitive Psychology; PSY 113, Biopsychology of Social and Clinical Behaviors. The social science psychology core courses are PSY 161, Social Psychology and Individual Differences; PSY 171, Social and Emotional Development; and PSY 181, Theories of Personality and Psychotherapy. (See item 3, a, page 3, for information about core changes and course re-numbering.)
PSY 110. Neural Foundations of Behavior. Introduces the structure and organization of the brain, and its role in perception, movement, thinking, and other behavior. Topics include the brain as a special kind of computer, localization of function, effects of brain damage and disorders, differences between human and animal brains, sex differences, perception and control of movement, sleep, regulation of body states and emotions, and development and aging. No prerequisites. (Fall)
PSY 111 Foundations of Cognitive Science.  This course provides an introduction to basic concepts in modern cognitive science, adopting the perspective of modern cognitive psychology. The course is divided into three sections.  The first section introduces central cognitive processes, such as pattern recognition, attention and memory, and concepts and categories. The second section focuses on natural language, using language comprehension and language production as a domain for introducing more detailed models of cognitive processes. The third section examines higher-level thinking, focusing on reasoning and decision-making. No prerequisites. (Fall and Spring)
PSY 161. Social Psychology and Individual Differences. An introduction to the field of social psychology and an overview of research on individual differences in personality. Topics include the self, attitudes, social cognition, emotion, interpersonal attraction, relationships, helping, social influence, group behavior, and dispositional differences among people. Students will complete several individual difference measures and receive individualized feedback at the end of the course. Format is lectures augmented with discussions and demonstrations. (Spring)
PSY 171. Social and Emotional Development. An examination of the interpersonal, emotional, cognitive, and environmental factors that influence children's social and emotional development from early infancy through late adolescence. (Fall)
PSY 181. Theories of Personality and Psychotherapy. A survey of personality, emphasizing modern theoretical approaches, basic methods of investigation, and the relations of these theories to psychotherapy and behavioral change. (Fall)
Special Courses, Including Honors Courses
PSY 191Q. Studying the Social Self. A Quest course considering how beliefs about self and others are formed, how people are evaluated, and the consequences of those evaluations. Students do hands-on research. Open only to freshmen. (Fall)
PSY 192Q. "He said...She said...:" Gender Differences in Communication. A Quest course that uses videos, primary sources, and training tapes to demonstrate and study how men and women talk to each other, and what that talk means. Readings are anchored in contemporary theories about gender and status. Students do hands-on research. Open only to freshmen. (Fall)
PSY 309. Honors Seminar. A survey of the range of research conducted by department faculty. Involves planning for engaging in thesis research and the consideration of research design and presentation issues. (Spring)
PSY 310-311. Honors Research I & II. Development and conduct of research leading to the Honors Thesis. (Fall, Spring)
Lecture Courses
PSY 151. Perception and Action. Explores how the biology of our senses shapes perceptual experiences of reality. Emphasizes sense of sight primarily and hearing secondarily. An important theme is that our sensory systems play a crucial role in the execution of coordinated movements of our bodies, as we navigate in, and interact with, the environment. Prerequisites: PSY 110, or BCS 111, or PSY 112, or equivalent background. (Fall)
PSY 153. Cognition. Considers human cognitive processes, including behavioral and computational methods used to understand the nature of cognition. Explores how concepts and categories are formed, how information is encoded, stored and retrieved, how people reason and solve problems, and considers the mechanisms underlying the acquisition, production and comprehension of language. Prerequisites: PSY 110, or BCS 111, or PSY 112, or equivalent background. (Spring)
PSY 162. Understanding Reading. Examines how people read, drawing on ideas from linguistics, cognitive psychology, and cognitive neuroscience. Explores writing systems and the aspects of language they represent, what our eyes do when we read, brain regions involved in reading, factors that underlie developmental difficulties in reading, and how brain damage affects reading. No prerequisites. (Fall)
PSY 172. Development of Mind and Brain. Introduces human development, focusing on the ability to perceive objects and sounds, to think and reason, and to learn and remember language and other significant patterned stimulation. Includes the nature and mechanisms of development in humans and an overview of what is known about brain and behavioral development in other species. No prerequisites. (Spring)
PSY 209. Psychology of Human Sexuality. Survey course on understanding sexuality. Includes such topics as biological sexual differentiation, gender role, gender-linked social behaviors, reproduction issues, intimacy, and the role of social and personal factors in psychosexual development. (Spring)
PSY 221. Audition. Examines the physiological substrate responsible for hearing. Topics include the physical stimulus for hearing, receptive aspects of speech and language, peripheral physiology (the outer and middle ears, cochlea, and auditory nerve) and central physiology (brainstem nuclei, auditory cortex, descending systems). Introduces electrophysiological techniques used to study auditory function, and explores sensory and perceptual correlates of physiology and sensorineural hearing loss. Prerequisite: PSY 110 or equivalent background. (Spring)
PSY 228. The Human-Machine Interface. Surveys the factors that influence human performance with machines and other artificial systems, including: sensory and motor function, information processing, memory, motivation, decision making, problem solving, the influence of the environment, and facilitators such as instructions, performance aids, selection, and training. Includes in-depth consideration of visual displays and motor input. No prerequisites: (Spring)
PSY 241. Sleep Research and Sleep Medicine. A wide range of sleep research and sleep medicine issues will be covered. Students will be oriented to the polysomographic description of sleep and presented information on sleep physiology. The relationship between sleep, health, and mental health will be reviewed with special emphasis on sleep in psychiatric disorders. (Spring)
PSY 242. Neuropsychology. Examines clinical neuropsychology, which bridges neurology, neuroscience, and clinical psychology. Covers history of clinical neuropsychology, principles of neuropsychological assessment and the interpretation of cognition and behavior as they relate to brain dysfunction. Considers specific neurological syndromes including: neurodegenerative, cerebrovascular, toxic and memory disorders; epilepsy; head trauma; toxic disorders; infectious processes; pediatric neuropsychology; psychiatric syndromes; and forensic neuropsychology. Patient presentations (videotape and in-person interviews) supplement lectures. Prerequisite: PSY 110 or equivalent background (Fall)
PSY 246. Biology of Mental Disorders. Remarkable changes have taken place over the past decades in the approach to and understanding of disorders generally termed "psychiatric disorders" or "mental disorders". Even in the mid-twentieth century, such disorders were viewed in social and psychological terms and there was virtually no effective medications to treat these disorders. Today, there is an increasing appreciation of the biological basis of mental disorders, and patients with these disorders benefit from a wide availability of medical treatments. The working concept of this course is that disorders that arise from malfunctioning brain cells are neurobiologic disorders.
The first part of the course will overview basic neurobiology. In the remainder of the course, basic concepts of neurobiology will be presented coincidentally with clinical presentations and a discussion of the clinical management of various disorders: major psychoses, mood disorders, anxiety disorders, addictive disorders, neurodegenerative disorders, and childhood onset disorders.
The understanding of the pathology of these disorders is undergoing rapid change. Therefore, while a text is used, it must be considered a progress report and text readings will be supplemented with readings from the primary literature. BCS 110 is a minimum prerequisite for this course. (Spring)
PSY 259. Language Development. Introduces children's language development, including the acquisition of phonology, syntax, and semantics. Focuses on the acquisition of a first language by young children, comparing the acquisition of a variety of spoken and signed languages to find possible universal principles of language learning. Prerequisites: One of the following: PSY 101, PSY 110, BCS 111 PSY 112, PSY 172, LIN 110, or equivalent background. (Spring, even numbered years)
PSY 262. Human Motivation and Emotion. A study of the motivational and emotional processes and theories that underlie both adaptive and maladaptive behavior. Includes consideration of research largely with human subjects. (Spring)
PSY 264. Industrial and Organizational Psychology. Applications of psychological findings and methods to problems encountered in business, industry, and the professions. (Fall)
PSY 267. Psychology of Gender. Exploration of the ways males and females differ in interaction, theories of development of sex differences, consequences for social change. (Fall)
PSY 278. Adolescent Development. This course surveys theory and research relating to normal development during adolescence. Adolescent development is examined in a variety of contexts, including families, peer groups, and schools, and issues pertaining to biological, social, and cognitive development are discussed. (Spring)
PSY 280. Clinical Psychology. An introduction to the field of clinical psychology. Students are exposed to prevalent theoretical and research models, as well as approaches and research findings to assessment and diagnosis, and treatment modalities. Prerequisites: PSY 101, PSY 282 or PSY 289. (Spring)
PSY 282. Abnormal Psychology. Etiological factors, clinical descriptions, and treatment of personality aberrations, emphasizing the more serious forms of mental disorder. (Spring)
PSY 283. Behavioral Medicine. An overview of the application of behavior/lifestyle change approaches to the treatment of medical disorders, and the examination of interfaces between behavior and physiology. Topics include diabetes, cardiovascular risk factors, chronic pain, and cancer. (Spring)
PSY 289. Developmental Child Psychopathology. Behavioral disorders of childhood and adolescence and relevant research topics in developmental psychology. Prerequisite: PSY 101 and at least one other psychology course. (Spring)
Research Methodology and Laboratory or Practicum Courses
PSY 200. Experimental Design and Analysis. Introduces statistical methods including descriptive statistics (count, central tendency, dispersion), hypothesis testing (significance, t-test, chi-square, etc.) and elements of correlation, regression, and interaction. Emphasis is on what a technique does at a conceptual level, how a technique is reported in the literature, and how to execute a technique. No prerequisites. (Fall)
PSY 205W. Laboratory in Development and Learning. Introduces behavioral methods used to study the development of perception, cognition, and language, and computational and neuroscientific methods used to study mechanisms of development, learning, and experiential change. Emphasizes methods for testing human infants and children. Includes observation of these experimental methods as well as opportunities for individual projects. Prerequisites: PSY 200 and one of the BCS core courses (PSY 150, PSY 151, PSY 153) or PSY 172, or equivalent background. (Spring)
PSY 208W. Laboratory in Perception and Cognition. Introduces observational studies of sensory and perceptual phenomena, showing how such observations can be used to answer scientific questions. Students perform, analyze, interpret, and report experiments, doing seven experiments in a sequence that gradually increases the independence of the student experimenters. Prerequisites: PSY 200 and PSY 151, or equivalent background. (Fall)
PSY 211. Introduction to Statistical Methods in Psychology. Introduction to the use of statistics in psychological research. Topics include descriptive statistics, correlation and regression, and inferential statistics. Examples are drawn from social and personality psychology. Logic of statistical inference and proper interpretation of research findings are emphasized. (Fall & Spring)
PSY 219W. Research Methods in Psychology. Hands-on introduction to the process of conducting research in personality and social psychology. Topics include measurement techniques, correlational methods and experimental design, data analysis, and ethical issues. Laboratory reports emphasize proper interpretation and presentation of research findings. Fulfills upper level writing requirement. Prerequisite: introductory statistics. (Fall)
PSY 266. Research Laboratory in Social Psychology. Individual behavior in social contexts, with selected experiments, which illustrate research methods and techniques. Prerequisites: CSP 161 and introductory statistics. (Fall)
PSY 370. Exploring Research in Family Psychology. Provides guided, direct, research experiences in investigating the interplay between family relationships and children's social and emotional development. Emphasis is placed on gaining knowledge in translating theories (e.g., family systems theory) into empirically testable hypotheses and designing research methods and techniques to test predictions. (Spring)
PSY 373 & 374. Exploring Research in Social Psychology. First-hand team experience with ongoing research in social psychology areas. May be repeated. (Fall & Spring)
PSY 382. Research on Antisocial Behavior. Guided research experiences on the causes and consequences of antisocial behavior in children and adolescents, with an emphasis on female populations. Students will also participate in a weekly lab meeting designed to promote knowledge of literature in this field, as well as to learn about specific topics of interest. (Fall & Spring)
PSY 384. Practicum in Developmental Disabilities. Explores educational, therapeutic, and social challenges in developmental disabilities. Students will spend approximately 8 hours per week in a supervised educational or treatment setting as well as participate in weekly meetings to review and discuss general issues in the field.(Fall, spring)
PSY 388-389. Research Practicum in Developmental Psychopathology I & II. Experience in conducting research in the area of developmental psychopathology involving patterns of development in high-risk children. (Fall, Spring)
PSY 390. Supervised Teaching in Psychology. Teaching of topics in psychology within a regular course under an instructor's supervision.(Fall, Spring)
PSY 391. Independent Studies in Psychology. Supervised research on topics in psychology. May be repeated. An Independent Studies Fair is held at the beginning of each semester to facilitate linkages between students and researchers.(Fall, Spring)
PSY 392. Practicum in Psychology. Supervised reading and experience in an applied setting. Essential supervision by a University instructor only. (Fall, Spring)
PSY 394. Internship in Psychology. Experience in an applied setting supervised on site. Approved and overseen by a University instructor. Limit: two internships in program. (Fall, Spring)
Seminar Courses
Prerequisites typically include prior course work in the sub area or permission of the instructor.
PSY 301W. Teaching Psychology. In-depth consideration of topics in psychology and their communication. PSY 101 is a lab for this course. Permission of instructor is required. (Fall)
PSY 360. Relationship Process & Emotions. Relationships are among the most important endeavors of human activity. In the past two decades, extensive theory and research has been devoted to understanding the processes of regulating people's thoughts, feelings, and behavior in meaningful relationships with friends, family, and romantic partners. The purpose of this seminar will be to explore this literature. We will examine psychological research on such important topics as attachment, emotion, intimacy, conflict resolution, relationship differences and similarities, and the impact of relationships on physical health and emotional well-being (as well as other topics that may arise). (Spring)
PSY 361. Social Psychology: Self-Concept. Considers critical theories and research dealing with the processes of formation and change in the self-concept. This course is intended for advanced undergraduates and requires a major research paper which should involve data gathering. During the first part of the course, students read classic and contemporary theory and research in the area. During the second part of the course students read in selected topics, and present their original research proposal and results.
PSY 362W. Seminar in the Psychology of Gender. Considers specific topics in the area, such as gender and communication, gender in groups, gender in business, gender role development, etc. Satisfies the upper level writing requirement.
PSY 363. Attitudes: Structure, Function, and Change. Seminar dealing with social psychology of attitudes. Historical and current approaches to attitude research are considered.
PSY 364. Achievement and Motivation. Seminar on achievement motivation, including achievement motives (e.g., fear of failure), achievement goals, and the strategies individuals use in achievement settings. (Fall)
PSY 366. Social Psychology and Control. Determinants and consequences of the need for control and perceived control, and their relation to individual and social behavior.
PSY 367W. Gender and Mental Health. This seminar examines the multiple ways in which gender-related factors impact on mental health, from a biopsychosocial perspective. We will discuss gender-related issues in assessment and treatment, as well as in the prevalence, etiology, course and outcome of selected psychological disorders. (Fall, not offered 00-01)
PSY 368W. Seminar in Humanistic Psychology. Humanistic psychology theory and its application to one's life experiences. Requires active participation. (Fall)
PSY 371 and 371W. Seminar in Social and Personality Development. Guided by a family systems perspective, this seminar explores children's social and emotional development within contexts of parent-child, interparental, and sibling relationships. Designed for advanced undergraduate students, the course primarily covers research findings and theories and requires research proposal writing and class presentations.
PSY 376. Seminar in Self-Determination. Deals with the field of human motivation with particular emphasis on intrinsic motivation and the meaning of self-determination in human functioning. A theoretically oriented course that reviews a range of research projects.
PSY 380. Theoretical Perspectives on Psychotherapy. This course will focus on foundational perspectives concerning human behavior change, including psychoanalytic, humanistic, behavioral and social-cognitive approaches. Theoretical and practical issues concerning processes of motivation and behavior change in the contexts of child development, psychotherapy, medicine and other applied fields will be addressed.
PSY 381 and 381W. Psychology of Developmental Disabilities. This course provides an introduction to the unique characteristics and challenges of individuals with developmental disabilities across the lifespan. We will address the main concepts and issues involved in the identification, treatment, education, and support of children and adults with mental retardation and other developmental disabilities. We will also explore current beliefs about intelligence, historical trends in society's perspectives on disabilities, and legal and ethical considerations. The class format will include both lecture and discussion. (Fall)
PSY 383. Moral Development. This seminar focuses on the psychological study of moral development. Different theoretical approaches to morality and related empirical research will be discussed. The primary focus is from a developmental psychology perspective, but philosophical and educational issues also will be considered. (Fall)