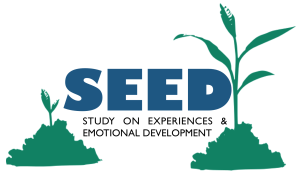 Study on Experiences & Emotional Development (SEED)
We are currently recruiting for a longitudinal study examining predictors of adolescent emotional health. For this project, we will examine multilevel predictors of emotional well-being (including interpersonal processes, implicit cognitions, reward processing, environmental stress assessed using gold-standard interviews, neuroendocrine functioning, and genetic risk, among other variables) in a sample of 14-17 year-olds and their parents, recruited from the Rochester community. Participants are assessed using interviews, questionnaires, computer-based lab paradigms, biological samples, and ecological momentary assessment. If you are interested in learning more about this project, or if you want to learn how you/ your child can participate, see our website.
Hassles & Uplifts in Daily Life
This project examined predictors of affective responses to naturalistically occurring hassles and uplifts in an undergraduate sample over-selected for depressive symptoms. Daily experiences and mood were sampled using two temporally overlapping techniques: ecological momentary assessment (using telephone-based surveys administered at semi-random intervals) and end-of-the-day daily diary. HUDL data collection was completed in 2014. We conducted this study in collaboration with Dr. Rachel Hershenberg (Philadelphia VA and University of Pennsylvania School of Medicine), who recently received grant funding to conduct a similar study in a veteran sample.